Agua Bendita Swimwear – as featured in the 2008 Sports Illustrated Swimsuit Issue, is a highly buzzed-about designer swimwear brand available now at The Orchid Boutique. Shop By Brand for Agua Bendita Swimwear, to see all the couture bikinis we have available.
For the second year in a row, Sports Illustrated has featured the sought-after brand Agua Bendita Swimwear in their annual Swimsuit Issue. Get all the hottest Agua Bendita styles from 2008 and 2007 here. Or Shop By Brand for Agua Bendita Swimwear in our Designer Bikinis or One-piece Sections.
The 2008 cover model Marissa Miller sported Agua Bendita styles last year. Click here to view last year's the sizzling pics.
In 2008 Model Jarah Mariano wore Agua Bendita style for the SI Swimsuit Issue, shot in Maui, Hawaii.
Shop this Gota de Agua style by clicking here.
Jarah Mariano also sported the Agua Linda Bikini, a pinup style couture swimsuit very much in line with the current 50s-inspired fashion trend.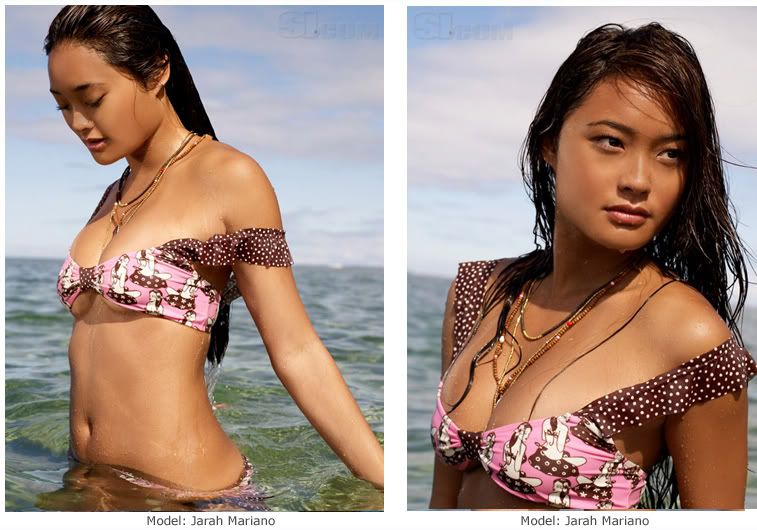 Shop the Agua Linda Bikini The Orchid Boutique by clicking here.
Also wearing Agua Bendita for the second consecutive year is Leo Di Caprio's on-and-off girlfriend Bar Refaeli. In an exclusive haute couture style specially made at the request of Sports Illustrated's creative team, Bar Refaeli struts the very exclusive SI Gota de Agua in gold. Available here.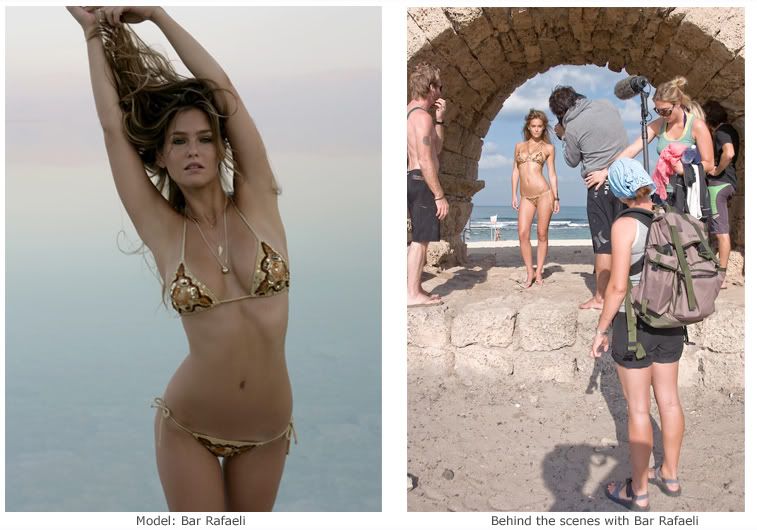 Shop the exclusive SI Gota de Agua in Gold here. Currently IN-STOCK.
MORE ON THESE DESIGNERS
Agua Bendita Swimwear and its designers are known for their intricate attention to detail and talent for creating couture styles. Agua Bendita has set the standard as a designer swimwear line that values quality over quantity, making their suits exclusive and fabulous. Shop all styles here.
Aquatic Cosmos is Agua Bendita´s most recent collection. This new collection is inspired by the bottom of the sea, the color of fish and fantastic beings such as mermaids.
Agua Bendita is characterized for dressing woman that does not want to go by unnoticed in everyday life, or when the occasion speaks of beach, sun and breeze.
Its playful concepts, colors and happiness, have made of Agua Bendita a brand that mingles the technology of laser cuts with the colored complexity of the handicrafts, all on very basic molds.
Gold is the protagonist color in 2008 collection. Other colors are reflected on it just as the light of the stars would reflect on a Mermaid's tail.
Happiness in stunning suits
Textures are protagonists again, imitating in some cases fish scales. The classical and traditional bikinis are suits impossible to ignore thanks to the Colombian handicrafts, handmade embroidered, crochet detail, and finishes in visible and thick threads