ATTENTION ALL COLLEGE STUDENTS AND ALL-AROUND PARTY-GOERS: Spring Break 2015 will soon be upon us. So for some of us this means you're planning the perfect vacation destination from your study-break week. You're gathering the gals and want to find the perfect place to show off your new sexy bikini. Trust us, we know how that goes. Maybe you've worked hard all year and need a solid week of fun in the sun, or maybe you've been saving since last Spring Break to enjoy a final hurrah before graduation. Regardless of why, the question on everyone's minds now is…..where?
We came up with a comprehensive list of the best spring break beaches for 2015. Now, we're not pulling out places like Bali, or Turks and Caicos and slapping them on the map. This is actually a very well thought out list. We're putting ourselves in your shoes and worrying about three key factors — weather, price, and the best fashion spot to rock your best bathing suits.
Take a look at what we've come up with.
Miami Beach, Florida
You had to have known this would be on the list. Our hometown, the best place to get down on the beach or in the streets. Right now there are some AMAZING deals for flights into Fort Lauderdale and Miami airports. In fact, if you fly into Miami airport, then you need to stop by Orchid Boutique on your way to the beach to pick up the latest from Milonga Swimwear. Milonga is the perfect brand for your Miami Spring Break vacation. The city's beaches are the perfect place to perfect your tan. Then throw on some jean shorts and perfect your look as you travel into Wynwood for some art and culture. Nightlife galore.
Milonga Gamboa Balconet Bikini
Features:
– Balconet style top provides extra support
– Top provides padding
– Top criss-cross ties at back
– Top features ruching at center bust
– Hipster style bottom
– Bottom provides moderate cut coverage at the rear
– Suit is fully lined
Cancun, Mexico
Cancun has one of the longest standing reputations as an insanely popular spring break destination. Affordable hotels, quick flights, and a wild and crazy nightlife, it's certainly easy to see why. All inclusive vacations are right around the corner! Eat, drink, stay, and play for a set price. What's not to love? Our favorite bikini picks for Cancun, Mexico revolve around Trina Turk Swimwear. We love Trina Turk and the vibrant colors and designs she produces every year. This year the Trina Turk 2015 collection is just as amazing.
Trina Turk Coral Reef Tankini
Features:
– Tankini style top elongates torso
– Halter style top features plunging neckline
– Top ties at neck
– Top features gold hardware detail at straps
– Bottom features shirring detail at hips
– Bottom provides full coverage at rear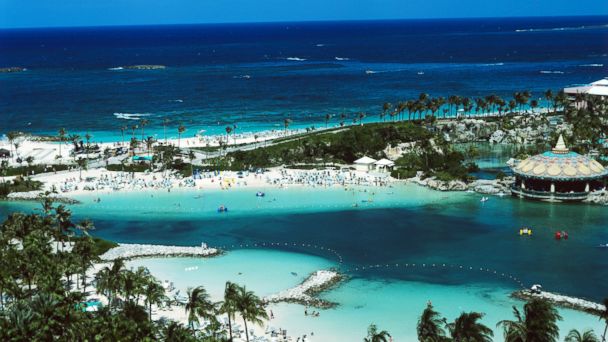 Bahamas
The Bahamian islands lure throngs of visitors to their white-washed shores, duty-free shops, fishing and scuba diving excursions and luxurious hotels. The families that flock here tend to indulge in the diversions of the lavish mega resorts, but this diverse island chain also offers a range of activities away from the hotel zone. If you're looking for more of a relaxation/exploration Spring Break, then check out any one of the 700 islands and cays to adventure on. Nassau is an amazing island to spend time on, making new friends and memories all along the white shores. Show off your favorite resort wear pieces while you stroll the sand.
Sanibel Island, Florida
This secluded Fort Myers offshoot is considered even more low-key, quiet and quaint than its Gulf Coast neighbor, and that's saying a lot. Casual is the order of the day on Sanibel Island; a shabby chic vibe permeates the Periwinkle Way galleries, restaurants and shops; seashells cover every sandy and linoleum surface. In fact, the abundant seashells have become this island's (and its smaller sister, Captiva's) claim to fame. You'll find plenty of beachcombers practicing the "Sanibel stoop" — what locals call shelling — on any lengthy stretch of sand. Plan on joining them for at least one afternoon of your stay; that is, if the mood strikes you. The residents of laid-back Sanibel wouldn't have it any other way. Plus it's so laid back, you can rock your favorite beach dress on the beach and the street.
Daytona, Florida
Hearing "20 miles of beachfront" will tempt many vacation-seekers, but the typical Daytona beachgoer usually has something else in mind. Despite recent efforts to appeal to families (Orlando, amusement park central, is just an hour away), Daytona annually attracts thousands of visitors in search of speed and spring break. And although many college kids have moved to trendier locales (Miami Beach, for one), this east Florida city still remains a frequented spot. Its reputation as the "it" party place has welcomed a different type of celebratory atmosphere — the ever-expanding NASCAR empire. Best known for the Daytona International Speedway, Daytona draws travelers who hope to see their favorite race car drivers up close.