Let me hear an amen for this amazing decade of sexy one-piece swimsuits and luxury bikinis!! We were definitely wowed by designer trends from 2010-2019, but a new year just arrived and the best is yet to come! For 2020 our crew of fashion specialists forecasts spectacular comebacks of retro trends with a 99.9% chance of sexy luxury swimsuits. Here's a list of our fave swimsuit trends for 2020:
1.  Floral Swimwear
We're truly sorry with Miranda Priestly, but florals for spring are groundbreaking! Floral swimwear has been popular for eons and we can't wait to see how swimsuit designers reinvent this classic in the new decade.
Photos: MAYLANA Adrienne Heliconia Turmeric One Piece, MALAI Chacalal Kent Top & AGUA BENDITA Evergreen Nativa One Piece
Fashion inspiration: Twiggy
2. Ruffle One-Piece Swimsuits
Feminine frills are on the rage. Be they tiny or exaggerated, 2020 promises many more swimsuits designs with this classy appeal. Not only ruffle swimsuits display a fabulous style, but they also have a flattering fit that balances your natural curves.
Photos: VERDELIMON Red Stars Waco One Piece, ESTIVO Tiger Expedition Ruffled Back One Piece & TOUCHÉ Panther Ruffle One Piece
3. Cute Crop Tops
50% t-shirt, 100% high couture swimwear; these comfortable bikini tops provide comfortable coverage and perfect support. Our curated selection of crop tops also includes the cutest details like spaghetti straps, shirred-stretch fabric, feminine ruffles, and more!
Photos: MAYLANA Aliana Honey Jungle Top, VERDELIMON White Missouri Top & ONDADEMAR African Flowers Crop Top
Fashion inspiration: Clueless
4. Crochet Swimwear
One-piece swimsuits and bikinis featuring crochet are one of our top favorites. You'll definitely make a statement with one of these combinations of sporty style and ultra-feminine extravaganza.
Photos: MAYLANA Jess Mustard One Piece, TOUCHÉ Panther Short Cover Up & MAYLANA Tash Crochet Top
5. Hipster Bottoms or Hot Pants
Supportive and fashionable; hipster bikini bottoms are a gorgeous combo for all the beach sports lovers. These bikini bottoms fit perfectly in every spot and will make you look swanky as heaven.
Photos: AQUAMANILE Cattleya Bottom, TOUCHÉ Ink Blue Bottom & AGUA BENDITA Olympia Polly Bottom
Fashion inspiration: Brigitte Bardot
6. Reversible Swimwear
Two pieces in one! That's what I call clever fashion!  You'll save not only money but also a lot of space in your suitcase. Invest in a reversible swimsuit and get travel-ready for 2020.
Photos: MAYLANA Ella Ipanema One Piece, AGUA BENDITA Gypsy Lolita Top & MALAI Color Collage Sulu One Piece
7. 70's Resortwear
This decade will certainly bring in a whole bunch of 70's inspired resortwear. Sexy cover-up pieces featuring bright colors, loose fits, and everything that's funky!
Photos: TOUCHÉ Albino Jumpsuit, AGUA BENDITA Evergreen Izzi Dress & ONDADEMAR African Flowers Tunic
Fashion inspiration: 70's funky vibes
8. High Waisted Cheeky Bikini Bottoms
In Orchid Boutique we know our vintage, and we love our vintage! High waist bikini bottoms display that flirtatious look that made pin-up style so popular. Add a cheeky cut to the equation, and what you'll get is a spicy combination of poise and pizzaz! 
Photo: TOUCHÉ Blue Picnic High Waist Bottom, AQUAMANILE Foxglove Bottom & MALAI Tie Dye Sunset Clif Bottom
9. Sexy Black One-Piece Swimsuits
The perfect ally to add an extra fancy touch on your beach outfits. Black bathing suits provide a flattering effect and its versatile tone allows them to be combined with almost any kind of cover-up piece. No doubt that these timeless pieces will keep turning looks in the new decade.
Photos: ONDADEMAR Mole Off the Shoulder One Piece, TOUCHÉ Panther Criss-Cross One Piece & MALAI Black Bowline One Piece
Fashion inspiration: Jane Russel
10. Sexy Monokini Swimsuits
Bikini lover mom, here's the answer to your style conundrum. Monokinis are sexy one-piece swimsuits that provide comfortable coverage; these beauties allow you to show as much skin as you feel comfortable with.
Photos: AQUAMANILE Snapdragon One Piece, TOUCHÉ Super Bloom Monokini & MAYLANA Nina Nakuru One Piece
11. Ultra Skimpy Brazilian Bottoms
This is next level swimwear. Only for the boldest bikini lovers, Brazilian bottoms are revamped in a skimpier version that covers just the right amount of skin. It's a string bottom, it's a high-cut, it's a thong, and it's your all-access ticket to wowland!
Photo: Maylana Bruna Cherry Red Bottom, MAYLANA Bruna Mallorca Bottom & MAYLANA Bruna Camelia Bottom
Fashion inspiration: Cindy Crawford
12. Twinning Swimwear
On the same line of sexy swimwear for mommies, twinning swimwear is a MUST! Pairing outfits with your loved ones is certainly one of the cutest swimwear trends. It's simple: 1. Take a look at our selection of Kids Swimwear and Men's swim trunks 2. Find adorable matching outfits 3. Get ready for a downpour of Instagram hearts!
Photos: Maylana Kids Swimwear 
13. High-Cut One-Piece Swimsuits
One of our favorite retro trends comes back to life! High-cut bathing suits were popularized as the Baywatch style but they have evolved far beyond that; neon prints, reversible designs, embellishments, and many more features make of high-cut one-piece swimsuits an ageless gemstone of style.
Photos: TOUCHÉ Tartar Classic One Piece, AGUA BENDITA Evergreen Florentina One Piece & MAYLANA Kim Jabiru One Piece
Fashion inspiration: Jane Fonda
14. Animal Print Swimwear
Retro? Yes, boring? Never! Animal print swimsuits are a statement by themselves. Everyone is going to hear you roar with these evergreen one-piece swimsuits and bikinis.
Photos: ONDADEMAR African Flowers Underwire Top, MALAI Melon Cheeta Lattice Bottom & ESTIVO Tiger Expedition One Piece
15. Handmade Accessories
These complements make the difference between a regular girl by the pool and a glamazon goddess of resort wear! Handmade accessories for the beach carry a vibe of exclusivity and unique style that fits perfectly with a luxury bathing suit.
Photos: MINT Jamaica Earrings, M.A.G. Fiji Necklace & MINT Waikiki Red Earrings
Fashion inspiration: The one and only Cher
16. Surfer Bodysuits
Sunburns can't be taken for granted nowadays and, for stylish surfer girls, the long-sleeved swimsuits are perfect to have some fun in the sun! The protective and yet fashionable design of rashguard swimsuits will be a main trend for 2020.
Photos: AGUA BENDITA Gypsy Abigail One Piece, MAYLANA Sam Heliconia Stripes One Piece & VERDELIMON Blue Stars Laguna Rashguard
17. Laced Swimsuits
Small details make a big difference for your outfit and laced swimsuits are clear evidence of that. The two-piece swimsuits with laced appliances display a sexy look and allow you to adapt any swimsuit to your shape. Looking for the perfect fit? Tie the knot with a laced bikini.
Photos: AGUA BENDITA Floret Sandy One Piece, AGUA BENDITA Evergreen Mia Top & MAYLANA Darla Ipanema Bottom
Fashion inspiration: Cher (again)
18. Off the shoulder bikini tops
We love the dainty vibe displayed by off the shoulder tops. The flattering fit and delicate details in these pieces make them the perfect match for a romantic getaway. Let's say that if Norah Jones's voice was a swimsuit, it would certainly be an off the shoulder top.
Photo: AGUA BENDITA Maui Emily Top, VERDELIMON Blue Paisley Victoria Top & AGUA BENDITA Gypsy Celia Top
19. Sexy White One-Piece Swimsuit
Talking about romance, white one-piece swimsuits will be slaying in the next decade. From the genius of the most popular designers to your bachelorette escapade, a sexy one-piece swimsuit will always be IN.
Photos: TOUCHÉ Albino White Monokini, AQUAMANILE Jasmine One Piece & TOUCHÉ Albino Halter One Piece
Fashion inspiration: Marilyn Monroe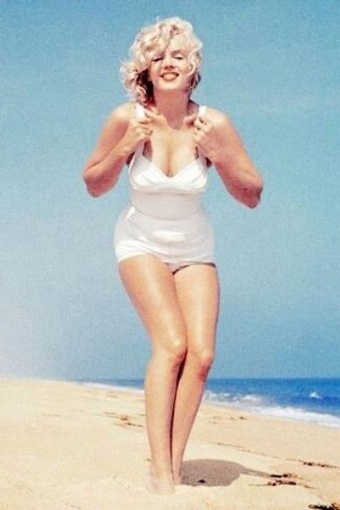 20. Tie Front Tops
Ending this chic assortment of swimsuits: Tie-front bikini tops! These vintage tops provide a flattering fit and a very delicate vibe. Pair them with a nice pair of shorts or a fancy pareo and you got the perfect resort outfit.
Photos: MAYLANA Leah Heliconia Stripes Top, TOUCHÉ Fluorite Bralette Top & VERDELIMON Blue Tartan Montana Top
Thanks to our tireless quest for the most voguish swimwear in the market, our collections are updated each month! Some seasons, even every week! Make sure to subscribe to our newsletter if you want to get instant updates on the best 2020 swimwear trends. Besides, you'll also find out about exclusive sales, promo codes and more.