Last night was one of our favorite entertainment/music moments of the year – the 2014 MTV Video Music Awards. Celebrities, musicians, and fans join together every year to celebrate a year in music, a year in music videos, and a year of pop culture hullabaloo. One of the biggest night's in music and we kind need to discuss. No, nobody showed up to the red carpet in their brazilian bikini (Even though Amber Rose came really close to revealing all) but there are still a few moments we need to share.
We came up with a quick recap of the Top 5 Moments from the 2014 MTV Video Music awards and can you really be surprised that number 1 is none-other-than our favorite pop queen Beyonce?
1. Beyonce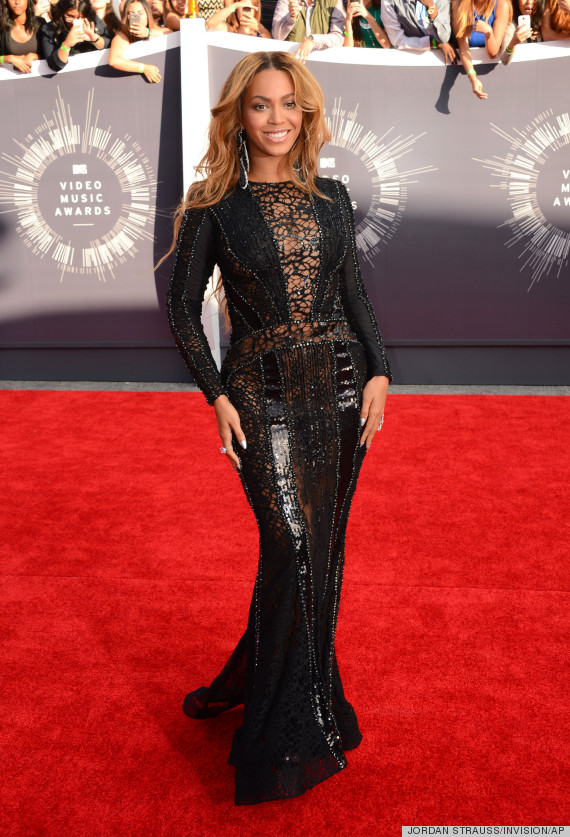 There's this thing about Beyonce that we can't quite put our finger on. This thing that makes Beyonce Knowles the coolest chick in the game as well as the 2014 MTV Video Music Awards. Maybe it's the fact that she can dance and sing like nobody else in the entertainment industry. Maybe it's the fact that she dropped an album in the middle of the night and it was one of the hottest records of the year. Or maybe it was the fact she was the highlight of the MTV VMAs and played every single song from the album to an arena full of dancing fans and celebrities alike.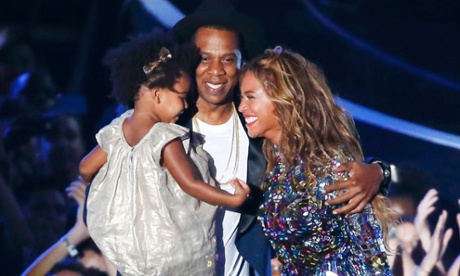 There is something about Beyonce that when she sings– everyone listens. When she dances– everyone stares. And when she stands there in a kick-ass colored mirror mosaic of a body suit, with her hand on her hip, you can't help but cheer. Beyonce is the ultimate entertainer and last night she proved it yet again. She is sultry and sexy, but she also has an amazing message for women: Empower yourselves.  It was adorable to see her daughter, Blue Ivy, dancing and singing along in the crowd….
….and to see Beyonce clearly tearing up when she accepted the Vanguard award for her years of work in the industry. One of the hardest working women in the game, Beyonce doesn't disappoint, and maybe that's why we love her. Because she really truly does it for the fans.
And that body suit. That body suit was the jam.
2. Miley Cyrus
We're not really sure how to feel about this. If you remember, this time last year, Miley was inappropriately gyrating on the stage attached to Robin Thicke's groin, chewing on a foam finger and looking like a hooligan. Attention, attention, attention. The 2013 MTV VMA awards launched Cyrus's career into stardom, probably not for the right reasons. Meanwhile poor Robin Thicke couldn't catch a break and looked like the creepy 40-year-old who goes down to the Jersey Shore to scam on eighteen-year-olds.
But this year, Miley Cyrus pulled attention back to her in a different way. After winning Video of the Year with "Wrecking Ball", which is a huge honor in itself, Cyrus sent a friend to the podium to accept the award and relay a message. The idea was there. We're not sure if it was executed in the right way. 1) This poor kid (a 22-year-old recently homeless man named Jesse) was sent up to accept the award and tell the crowd about the increasing amounts of homeless youth in the LA area. Seems like a smart move, right? Especially since lately we've been seeing more and more celebs do this sort of thing in front of paparazzi in order to garner attention for things other than celebrity culture. Smart move.
2) However, that's all it was on Cyrus's part — a move. To garner attention. Not necessarily for the cause, but for herself. Maybe it was a genius PR move, maybe she wants people to start taking her seriously again, who knows. But it would have been a different ballgame if Cyrus didn't sit on the floor, seemingly forcing tears, while the poor homeless youth stuttered on stage to relay this message. Or perhaps instead of this stunt, Cyrus walked up with this man, and stood next to him, reassuringly. But no, she sat on the floor (…..?) and cried.
Granted much like the Ice Bucket Challenge, any attention toward a cause is good attention in the end, but did anyone else see this as not the most genuine move on this pop star's part?
3. The Kardashian/Jenner Brood
Okay, I get it everyone is sick and tired of hearing about this family, but damnit they are on fire. In every sense of the word. Just look at the way these girls can clean up. If they weren't in the media or magazines every day then we wouldn't be so sick of them. Because in reality, these girls are pretty, they are successful, and holy hell they can dress.
I'm sorry but Kendall Jenner is drop dead-ly gorgeous — those long legs and that chic, model-esque stature has us in complete awe. Then you have Kimberly, our favorite celeb to love/hate, flaunting some serious boobage in her dress (which we must note reminded us of something straight out of the Mara Hoffman Swimwear collection). But you have to give it up to the girl. She rocked the heck out of her cleavage, without being over-the-top (think Rose McGowan MTV awards dress circa 1998). Even Usher agreed….
4. Best Dressed
Speaking of best dressed for the evening, we couldn't just choose one. Here are some of our favorites from the night.
J.Lo
Do we still call her that? Does she go by J.Lo anymore? Are we out-of-the-nickname-loop?
Regardless, homegirl killed in in this caged bikini lookalike.
Taylor Swift
Okay, so now we know why this blonde bombshell has been hitting the gym so frequently. Not just because she is continuously making all of our high waisted bikini dreams come true, but also because she can rock a designer one-piece like no other.
Demi Lovato
Straight from the mouth of Steve Carrell in Crazy, Stupid, Love Demi Lovato does this thing where she is "the perfect combination of sexy and cute". Seriously.
Lucy Hale
One of our favorite Pretty Little Liars, Hale rocked the heck out of this crop top trend. You know the trend we're talking about. The one that is going to hit HUGE once you see our 2015 collections being released. You heard it here first – crop top bikinis get them while they're scorching.
5. Cutest Couple
This one was a tricky one, because there were many couples last night that made us reconsider. Yet, we chose two that stole the show for us. Newlyweds Adam Levine & Behati Prinsloo, and Jordan Sparks & Jason Derulo. There is something about watching two people madly in love that just makes us swoon.
Care to share your favorite moments from the 2014 MTV Video Music Awards? Make sure to leave a comment below.