When we think of summertime, we think day trips to the beach, frolicking in our new sexy swimwear, or long nights out with friends dancing away the heat. It's very rare that we may initially attribute summertime with new hairdos. But believe me, when the humidity and temperatures rise, you'll be looking for a way to get those locks off your neck. I know personally I don't feel very sexy when I have sweaty strands of hair stuck to my skin. That's why we're here to help.
We've found a few hairstyles which are not only simple, but super cute as well. Let's talk locks and the best summer hairdos for 2014 and start beating that heat.
Side Braid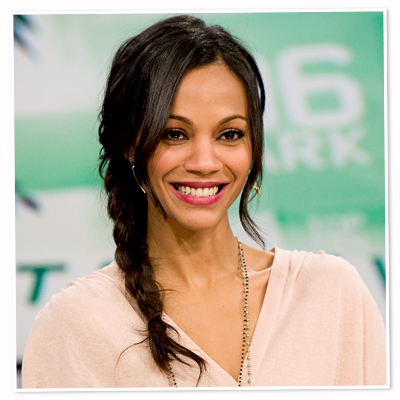 The side braid is always a quick go-to whether you're fresh out of the shower or on the go. It doesn't have to be a perfectly crafted braid, in fact the messier it may be, the more fashionable it can look! Actress Zoe Saldana is one of our favorites to rock the side braid, as she loosely allows her longer bangs to hang free.
In order to achieve this look, simply pull your hair to one side and easily whip up a sleek braid. This hairstyle allows for your neck to be uncovered, which will help you stay cool during those humid summer months. If you need tips on how to braid a traditional braid in your hair, simply visit: http://www.wikihow.com/Braid-Your-Own-Hair
Now, I think the side braid is so sultry, it can be paired perfectly with a sexy swimwear like the Bettinis Bone Sliding T-Back Triangle:
Braid it up, throw on some perfect beach accessories, and bring this hairstyle to life.
Surfer Waves
One of the most sought after hairstyles during the summer is the beachy, wavy look. However, many women underestimate the time and effort it takes to achieve this look. It isn't as simple as stepping out of the ocean and letting your hair dry in a perfect wave of curls. Although the style make look effortless, it in fact takes quite some time to achieve.
A simple way to achieve the look is by starting with the side braid, believe it or not. You can take your wet hair and tie it into a braid, then spray with a combination of sea salt and water and let dry. Then once the braid it completely dry (you can use a hair dryer with an infuser if needed) let our your hair and gentle tousle. Spray with hairspray and you are finished!
Another easy way to achieve the surfer hair look is by using products that are legitimately called "Surfer Hair". Garnier Fructis has a paste-like product that when you scrunch into your wet hair, it creates a perfect set of waves.
I always equate this look with a more California-Boho girl, who enjoys the sand and surf and stays fashionable. She's the type of girl who wears Tavik swimwear and keeps a west coast flair. Tavik's purpose for their collection is designed for those engaged in the modern beach culture, so this hair style seems right up their alley. Check out the new Poppy Leaves One Piece from Tavik Swimwear, and tell us the beachy hairdo doesn't do wonders for this sexy swimwear:
Pixie Cut
I'm sure by now you've heard about all of the celebrities who are chopping their hair off. Jennifer Lawrence, Julianne Hough, Shailene Woodley to name a few. The pixie cut has been all the rage this year, and it sure will be even more appreciated during these next few summer months. Some women attribute having short hair to having an easier time getting ready. Unfortunately, this isn't the case. Although you do save a bundle on shampoo and conditioner, it often is quite the hassle to make sure all the shorter strands of hair are pushed down and in place. While having longer hair creates more room for stray strands, having shorter hair requires more time spent perfectly the coif.
Yet, when more time spent equals cooler body temps and less shower maintenance we can't say we disagree. Besides, it'll all grow back anyway, right?
Simple French Upbraid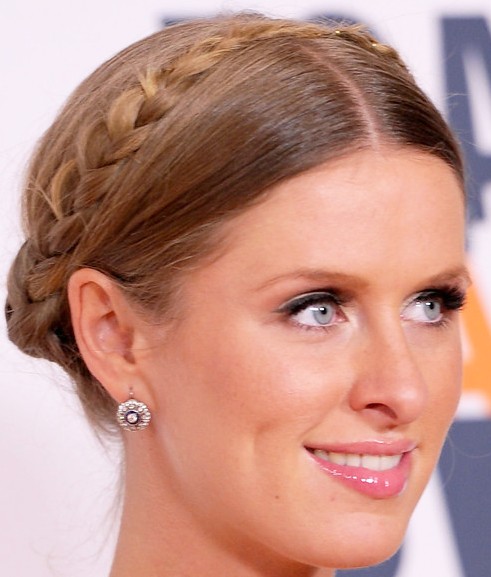 I've always loved this look because it is classy and cool and fairly easy to do. Similar to the side braid, this hairstyle uses two braids on the sides (Pippy Longstocking style) which eventually get pulled back and are bobby pinned together. This keeps the hair off your neck, as well as out of your face. We see this look a lot at music festivals because it has that Renaissance/Bohemian edge to it. Looking cool and feeling cool during these upcoming summer months has never been so easy.
For me, the french braid updo would match perfectly with your latest piece of resortwear. Can you picture this hairstyle with the L*Space Flutterbye Maxi Dress?
There's such an elegance to both the dress and the hairstyle that I can see matching the two together to create the perfect summer nights look.
Let us know in the comments your favorite summer hairstyles and one of our stylists can pair it with a swimsuit!