A Brazilian swimsuit is a sexy swimwear piece with a narrow-cut at the back, it was first created in Latin America. As this name represents a special type of coverage, it applies to a broad variety of designs. Be it a one-piece swimsuit, a bikini or monokini; these fabulous pieces are versatile and evergreen. Women of all sizes should never miss the chance to wear a Brazilian Swimsuit. That's why, in order to vanish the most common doubts about Brazilian cut bottoms, we've decided to make our stance clear with a perfect model: Bruna Bottom by Maylana Swimwear!!
The revolutionary brand surprised us this season with a brand new set of silhouettes that evoke a youthful vibe paired exquisitely with vintage style. Bruna is one of these luxury swimsuits and we love its audacious design featuring, of course, a Brazilian cut coverage. Without further ado, let's start with some facts:
Why are Brazilian swimsuits popular?
The narrow cut of Brazilian one-pieces and Brazilian bikini swimsuits shows way more skin than traditional bathing suits. Wearing a Brazilian cut swimsuit is a rebellious act against all constraining taboos regarding women's bodies and sexuality. That's why these sexy bikini bottoms became popular at the same time that women's rights started to be validated. 
A few decades ago, wearing a sexy Brazilian Swimsuit like the Bruna was outrageous. Can you imagine your great grandmother with a Bruna Cherry Red Bottom? I do!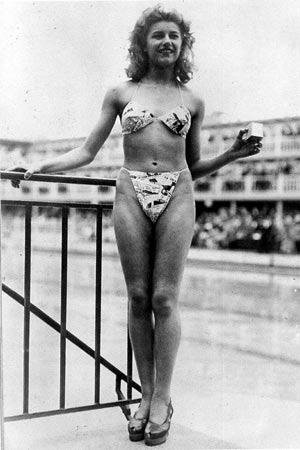 Micheline Bernardini rocking a Brazilian bottom back in 1946
What is the difference between Brazilian and high cut swimsuits?
This question deserves a full blog but, for the sake of briefness here's a golden tip: When talking about Brazilian cut swimsuits we relate to the bottom's coverage, on the other hand,  high cut swimsuits are related to the bottom's rise. So you'll notice a bikini bottom is Brazilian looking at the rear, and the front will let you know if it is a high cut.
The Bruna silhouette by Maylana swimwear combines both styles in one bikini bottom! It provides skimpy Brazilian coverage but also shows the hip bone, a provocative feature that basically defines what high cut bottoms are.
This vintage bikini bottom features two different prints, so you'll get florals at front and stripes at the back
Who is allowed to wear Brazilian Swimsuits?
EVERYONE! Since these sexy bottoms were created, many women of all ages and styles have been able to flaunt their curves freely and confidently. There's no limit when it comes to wearing Brazilian bikini swimsuits or Brazilian one-piece swimsuits. All that it takes is looking forward to a perfect tan and a sensual vibe to match it. Bruna by Maylana swimwear embraces these ideals altogether:
Kim looks great, but you'll look even better!!
Where to buy Brazilian bikini bottoms and swimsuits?
Online shopping for swimsuits is the easiest and cheapest way of shopping. All bias aside, we suggest you get your next Brazilian bikini bottom from an online store. Buying online will give you access to an amazingly wide variety of options, updated constantly, and just a click away. Additionally, if the store has a direct customer service line or a live chat (Like The Orchid Boutique does) you'll receive instant advice about styles and sizes.
It's quite the bomb knowing that you could get a vintage bikini bottom like this from the comfort of your home. 
All the Bruna bottoms are reversible, which means you'll have two bikini bottoms in one!
We hope this blog has cleared your doubts and inspired you to get a new (or your first) Brazilian swimsuit. For the boldest fashion lovers out there, this sexy swimwear is ideal to get a perfect tan and look like a glamazon at the beach or pool. Besides, it is available in lots of prints and we're sure that more will keep coming! Either your preferences tend to solid print swimsuits or florals, a sexy Bruna bottom will be waiting for you in our online boutique.
Pro tip: Always call and ask if there's a coupon. Most of the time, there is!